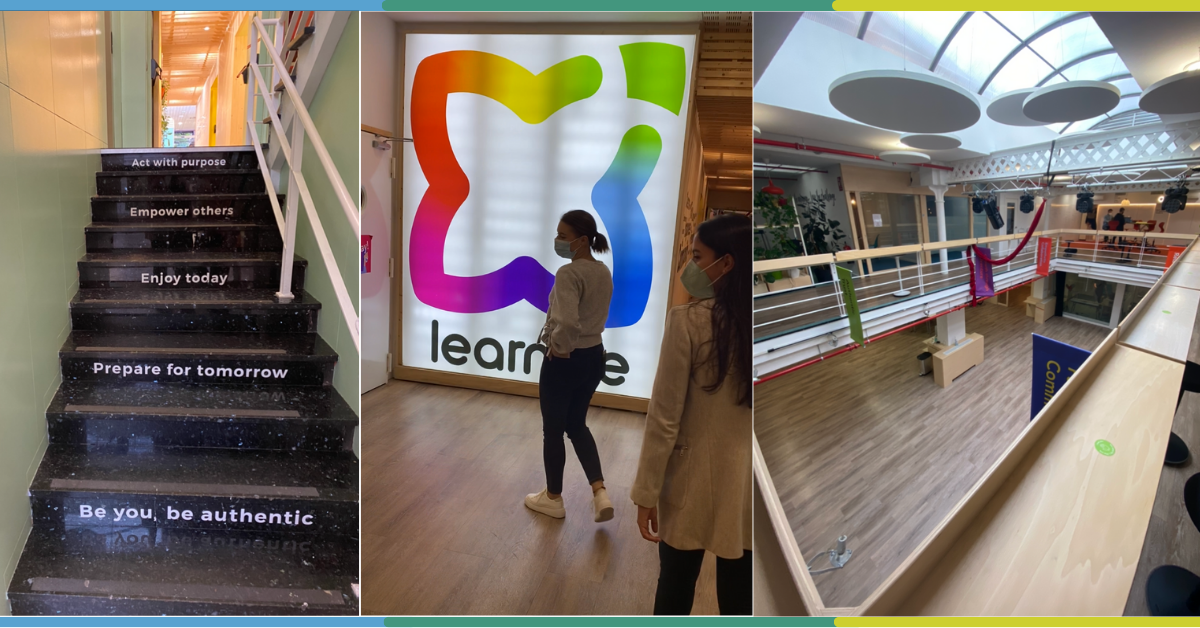 Learnlife - A Learning Experience Inside And Out
Most of you in K-12 will have heard of Learnlife. Founded in 2017, they have already made waves in the world of education, in their mission to totally transform the way we support young people to find their purpose, or ikigai, in life. In just a few short years, they have grown rapidly, expanding through partnerships internationally, and ensuring that there are personalised and flexible opportunities to learn anywhere at any time through the Barcelona Nature Hub, Urban Hub, one of their global partner hubs or even learn from home.
‍Here, learners do not "belong" to one space or another, but can move between and among them, so that the space and context are fluid, as determined by the passions and personal objectives of each learner.
We wanted to see examples of the physical space, where such a revolutionary approach had taken root, and spread outwards through community, alliance and partnership. So we headed firstly for where it all began, the first Urban Hub in Barcelona.
The Urban Hub - Open space and a warm welcome
Learnlife Urban Hubs are a living, breathing part of the urban landscape around them. The Barcelona hub is in Enric Granados; a lovely street in Barcelona and one of very few pedestrianised options in this part of town. Surrounded by cafés and restaurants, and with a long smooth slight downhill slope for all the many skateboards, cycles and scooters that carry the learners and learning guides to the front door.
The reception is always manned, and it instantly feels very secure as we are allowed to enter, and welcomed with a big smile. On the left as we come in are the "chiringuitos" or beach huts; small separated spaces where 1 to 4 people can sit comfortably and chat, work on a project, or just get some quiet escape.
There is a lot of colour in Learnlife; always something to draw the eye. There is learning in every space, and a feeling of fluidity, as the purpose of each room is unknown until the learners themselves decide. Words and mantras, touches of fun and creativity, every single thing is there for a purpose, but it feels open and uncontrived at the same time.
We don't always feel like sitting, standing, moving, staying static. Sometimes we want small, quiet spaces to retreat into, and at other times we want to be with friends, chatting, creating, mediating and discovering. And sometimes we just want to nap.
Learnlife has taken the full spectrum of learning expression into its design, and made sure that learners never feel hemmed in by a lack of options. The neat rows of chairs or noisy circles in single rooms that dictate the place and pace of learning in traditional schools are a million miles away.
As we walk around, we see Learning Guides are dotted around the space, some tapping away at the laptop in a chiringuito, some meeting with colleagues in the open forum at centre, some working with learners in a studio, or a large airy room where the walls are whiteboards, some filled with yesterday's learning, and some blank with the promise of tomorrow.
The handwriting is varied; and it is clear that the whiteboard is not just for the learning guide. From the decor to the diagrams on walls, learners have been fully present in all of this. This is their space, after all. Learners are actively collaborating in one space, or quietly reflecting in another.
We see one young man lost in the sound of his guitar in the soundproof music studio, and are approached by a small group of learners who made a delicious dessert in the kitchen studio, and have calculated a reasonable selling price of 1 euro per portion to recoup costs. We fork out and fork in, and realise we got a bargain as the taste emerges.
The Eco Hub - a project for sustainable learning
Having loved our time in the Urban Hub (though we didn't manage to take a nap), we were invited to see the site of the new Eco Hub Learnlife is building in Castelldefells, just a short-distance outside the city of Barcelona.
Learnlife has made learning in nature a foundational pillar of its approach, and so it was exciting to see the latest development in this philosophy. This new site is not far from one of Learnlife's Nature Hubs in Gava, where their young learners can be "immersed in their natural environment and learn from it." This Eco Hub in Castelldefells, however, is a more community-facing project.
On a stunning plot of land just yards from the sea, the construction of grade-A energy efficient eco buildings is unfolding quickly. As Sol, the Learnspace Architect, takes us around the site, workers arrive with tiles and sinks, planks and ducts, and Sol directs them to the right location without missing a step.
Though the structures are the focus of attention right now, it is the outdoor space itself that is the key component. Sol explains that learners, and visitors will be able to garden, learn about permaculture, grow their own food, learn among nature and share it all with others in the community as partnership projects develop.
Whether Learnlife learners are here visiting from ay of the Urban Hubs, Nature Hubs or their own home learning environments, whether it's local schools dropping by or community groups swinging in to learn about sustainability or really anything else you can imagine, this is a place where learning grows.
The local community is excited. As we are there, people stop to ask when it will all be ready, and Sol is ready with a smile and words of welcome. Learnlife has always said that community is a learning environment just like any other, and this space makes good on that sentiment.
The way it should be
Visiting Learnlife was really inspiring for us because they actually walk the talk. Everything they believe about a purposeful, personal learning paradigm (and we agree) runs through every aspect of their approach and their physical and virtual spaces. One thing we commented on as a team over and over again was how we wish we had been given the opportunity to learn like this.
We headed back to the city via the Learnlife Nature Hub in Gava, and saw the young learners picnicking in circles in the forest; happy, smiling, curious. Two young girls approached us to say hello and ask if we would like to join them, and we very nearly did.
But we had to go back to our own world, working to do what we can to ensure that movements and organisations like this can thrive and spread, so that everyone one day can learn like this. This is the reason NEO works only with organisations which align with our own values and sense of purpose. As a marketing consultancy, we understand our responsibility in the types of institutions we amplify and elevate, and so we are proud to work alongside Learnlife.
Thank you Learnlife for a wonderful experience, and a reminder that things can change, if only we follow what we know to be right.