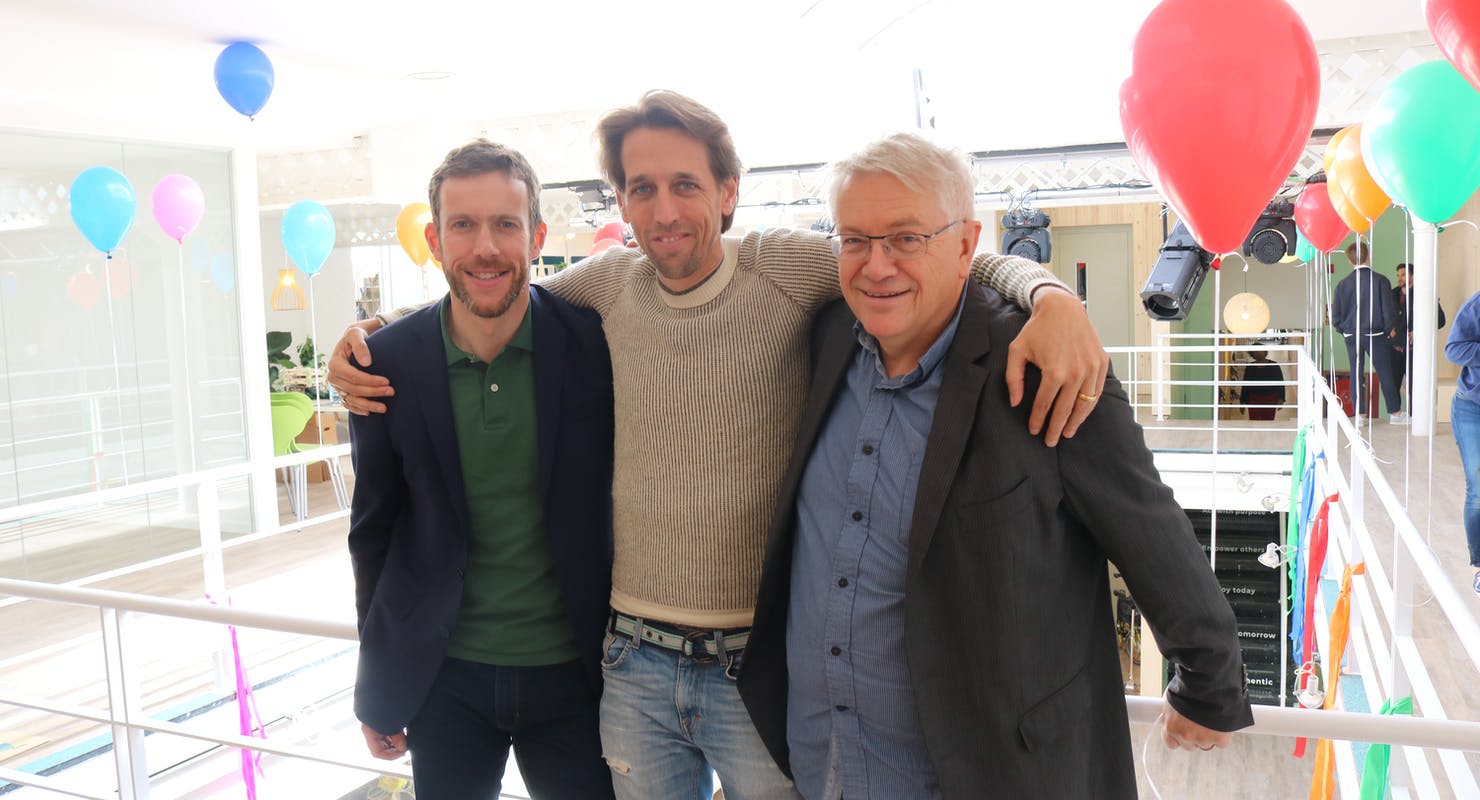 June 6th, 2019 – Barcelona, Spain: Learnlife is on a mission to positively change the world of learning by empowering individuals, schools and governments through a new learner-centred paradigm that focuses on purpose-inspired and personal learning. The open ecosystem for a new lifelong learning paradigm comprises a digital platform and physical hubs. Through this hybrid approach, Learnlife's ambition is to empower 100,000,000 learners and 100,000 schools by 2030, enabling them to adopt and integrate learning innovation elements into their own projects.
The high impact organisation, founded in 2017 by Christopher Pommerening, Dr. Stephen Harris and Blair MacLaren, announces a €3.1m seed funding round – raised in partnership with 19 entrepreneurial supporters spanning 11 countries. The funding round was led by BPO Capital, a vehicle of Benjamin Otto (Germany), active shareholder of the Otto Group and co-founder of About You.
Learnlife will use the funding to grow the crowdstorming community of innovative educators, lifelong learners and changemakers from around the world and accelerate the collaborative research and development of the new learning paradigm. The funding will also be used to open learning innovation hubs in order to explore the new learning paradigm. The 1,200 m2 pilot hub was inaugurated in Barcelona in April, and will be followed by the first African hub which will launch in Kigali, Rwanda, in 2020.
With the opening of its first learning innovation hub in Barcelona attracting over 500 family visits, Learnlife has put a new way of learning on the map. The Barcelona hub already comprises a full time and afternoon enrolment of over 70 learners accompanied by 24 learning guides, experts and mentors from different professional sectors.
Christopher Pommerening, founder and CEO of Learnlife, said: "We are on an exciting journey to create a new learning paradigm for anyone in the world. There is a technological revolution that is changing our lives on a daily basis and our education systems are struggling to keep up with the pace of change. We need to innovate learning and evolve continuously to stay relevant and ensure the next generations can have a healthy, happy and sustainable future."
Benjamin Otto expressed about the funding: "My wife and I are supporting this wonderful project, because we believe that the current education systems are not fully serving the demands of the future and that a focus on the flourishing of each individual will be a key to success in the digital era".
Many in education would agree that the system needs a shake-up. By 2030, it is predicted that 800m people could be displaced by automation and 65% of today's youth will need to find or create work in areas that do not yet exist. In the context of an ever-changing world and a need to continually upskill, lifelong learning leads to a heightened sense of personal fulfilment and happiness, as well as increased employability. "By focusing on personal learning driven by purpose and passions – exploring new competencies and enabling learners to develop self-awareness and emotional intelligence – our learners are able to prepare themselves and adapt to whatever the future will bring. We believe that collaborative learning communities will become the problem-solving champions in a world where agility, creativity and social innovation will be needed in order to solve future challenges," continued Pommerening.
So far, the paradigm comprises 21 elements that promote sustained educational change. These have been developed based on research, best practice examples and 25 of the most effective learning methodologies from over 100 of the most innovative schools around the world. These elements have been developed in collaboration with over 40 thought leaders from sectors such as education, entrepreneurship and innovation, including: Kiran Bir Sethi, creator of Design For Change; Martin Dougiamis, founder & CEO of Moodle; Valerie Hannon, author of "Thrive" and co-founder of the Innovation Unit; John Hoffman, CEO of GSMA; Claire Boonstra, founder of Operation Education and young global leader in the World Economic Forum; and Professor Dr. Yong Zhao, author of "Reach for Greatness: Personalizable Education for All Children".
Dr. Stephen Harris, co-founder and Chief Learning Officer at Learnlife, said: "There is a huge opportunity to innovate learning to ensure that it is meaningful, motivating and enriching for each individual. The funding is enabling our research team to explore and develop the elements that form the different components of sustained educational change. These elements - which are explored in our hubs before being published on our digital platform - arise from an aggregation of research and global best practices in collaboration with international learning innovators. In their entirety, they provide an innovation roadmap and practical steps for driving positive change within any school or organisation around the world."
Press Contact:
Emma Buckle
Tel: +34 691 395 720
emma@learnlife.com
www.learnlife.com