Learnlife
Wellbeing and education: spotlight on THE conversation we should all be having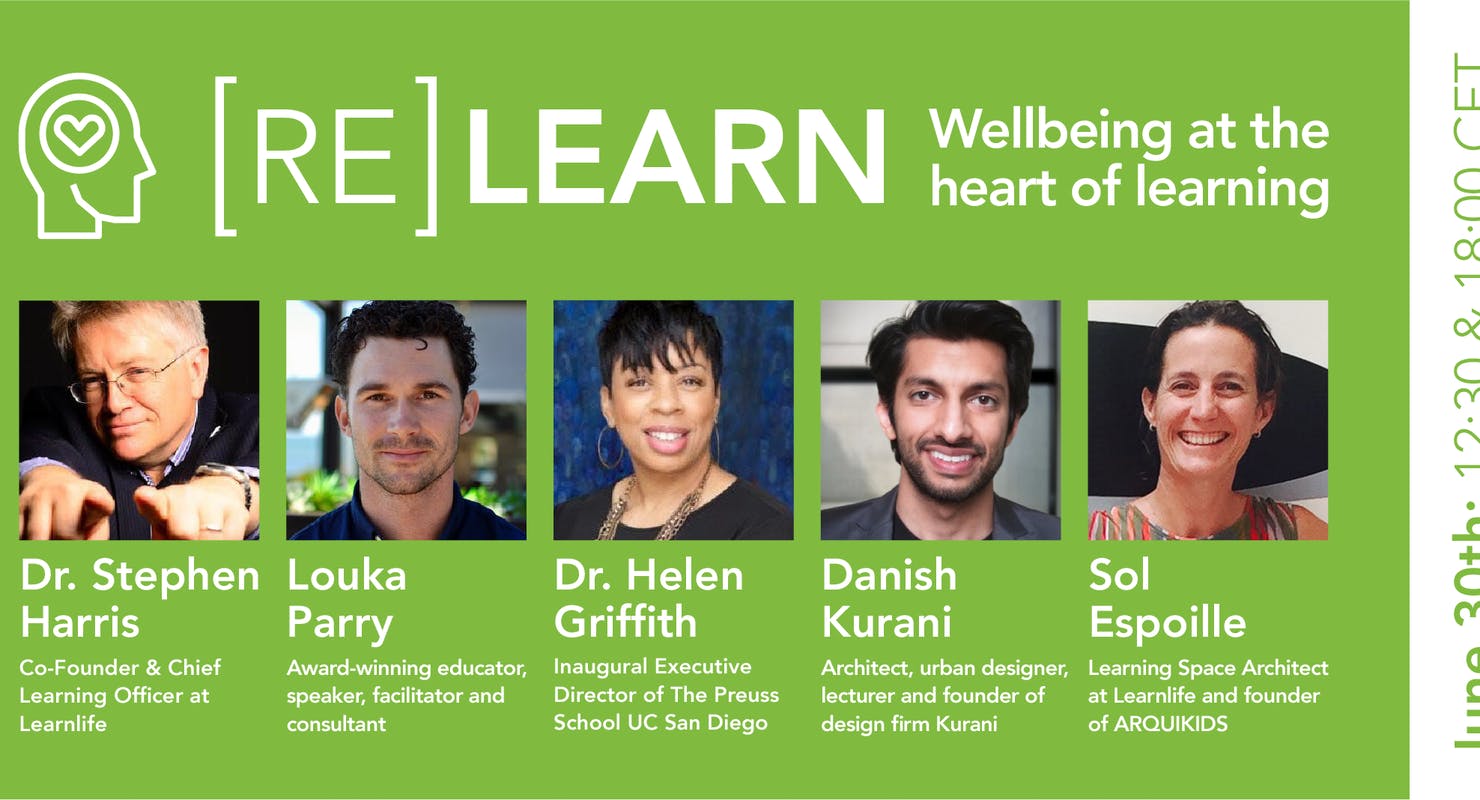 As thousands of students return to classrooms in various locations around the world, Learnlife calls on experts and thought leaders from the field of education, and related sectors, to discuss the importance of wellbeing, learning space design and learning environments, and why they are crucial to helping learners thrive.
Traditional education systems have been radically changed in the past few weeks. And while some organisations were able to shift operations online in a matter or days or even hours, for others, the transition to remote learning has not been smooth, and even less so in very traditional learning contexts. At Learnlife 65% of our learners reported increased happiness while learning in the remote programme.
"Central to our learning paradigm is learning understanding -- essential for delivering a personal learning experience -- and positive relationships. We make it our mission to listen to our learners' and families' needs, and then adapt and pivot as needed to address them," says Dr. Stephen Harris, Learnlife Co-Founder and Chief Learning Officer. It is no surprise then to hear that within one week of the transition to remote learning, the learning team were making small tweaks and adaptations to the programme and schedule to accommodate learners' needs. One of these iterations was the lauded introduction of Wellness Wednesdays, a day safe-guarded for enabling learners and their families to do whatever brings them joy, peace and balance together as a family. Many used this as a time for "digital detoxing", punctuated only by the 30-minute one-to-one zoom call with their Learning Guide, often used as a safe space for discussing their mental and physical wellbeing.
The conversation at next week's event will address the need for a radical new approach and overhaul to the current perception of what the school experience is and what school looks like in a world that has been radically changed in the past few weeks. In a volatile and changing world context, the need to provide learning environments that can help our learners adapt to change becomes paramount.
In this current context, Harris will interview global experts from the fields of education and design in three key different conversations about wellbeing and its importance in the learning context:
Wellbeing: placing multi-dimensional growth at the heart of learning
Wellbeing & Learning space [re]design - post lockdown
Wellbeing & learning - a total revamp
The conversation will include three 20-minute presentations or interviews, from global leaders in the fields of education and design, followed by a live Q&A session. Speakers include Louka Parry, award-winning leader, learning strategist and education futurist, and founder of The Learning Future; Danish Kurani, architect and urban designer, called on by the likes of Google for his consultancy, and renowned for initiatives that use design as a vehicle for positive societal impact, including STEM labs in inner city underprivileged areas; Dr Helen Griffith, Inaugural Executive Director of the Preuss School, has received multiple awards for her work as an educator and was nominated as San Diego's 50 People to Watch in 2013; and Sol Espoille, founder of ArquiKids -- combining creative thinking with play, design and architecture as a tool to create unique events -- and Learnlife's resident programme architect.
The transition from fully remote learning to a new context post-Covid confinement, in whatever form that may take, will require equal amounts of agility and flexible thinking. "This pandemic situation has presented the education world with a huge opportunity for an overhaul to the current systems and outdated practices. To simply 'return to normality' post-Covid, to a context where learners do not have agency, and there is an over-reliance on exam pressures and standardised testing would be a mistake. I get really frustrated when I see some of the uninspiring solutions to physical distancing in schools by simply separating desks by two metres. This is an opportunity to revamp our learning environments and design in a way that learning can truly flourish." says co-founder Harris.
Learnlife's Barcelona-based learning hub is a living exemplar model of the elements in action needed to bring about, implement and sustain educational change. These hubs are also in development and construction phases in Hamburg, Germany and Kigali, Rwanda. In other locations across the world (Australia, Brazil, Uruguay, Ireland, Portugal, Ukraine to name a few) iterations are happening about the possibilities of Learnlife hubs being housed as beacons for educational innovation and change.
"We have to be asking ourselves: what is the long term negative impact of designing schools around traditional curriculum models? And what are the possibilities for change? Just imagine how the school experience would be different if the wellness agenda becomes a pillar of school design," continues Harris.
To address this topic, Learnlife is hosting the global event on Tuesday 30th June, as part of its [RE]LEARN series, which will focus on how wellbeing needs to be placed at the forefront of conversations about learning, especially in the current context of physical distancing and post-confinement Covid19 period. Among others, Danish Kurani and Dr. Helen Griffith will address questions such as what are the post-Covid19 design implications for schools? And how can we do better?
About [RE]LEARN
This global conversation is part of the learning and development series, [RE]LEARN, to empower educators, school leaders and parents in navigating the world of learning.
You can read more about the speakers and interviewees via the event information published on www.learnlife.com.
Event Timings & Details:
Panel Host & Interviewer: Stephen Harris
Session A:
30 June
10:30pm - 12:00am New Zealand
8:30 - 10:00pm Sydney (live)
8:00 - 9:30pm Adelaide (live)
12:30 - 2:00pm Barcelona, Ostrava (live)
11:30 - 1:00pm London
6:30 - 8:00am Atlanta (pre-recorded)
(3:30 - 5:00am San Diego (pre-recorded)
Session B
30 June (1 July)
9:00 - 10:30am San Diego (live)
12:00 - 1:30pm Atlanta (live)
5:00 - 6:30pm London (live)
6:00 - 7:30pm Barcelona, Ostrava (live)
1:30 - 3:00am Adelaide (a recording of the earlier interview)
2:00 - 3:30am Sydney (live)
(4:00 - 5:30am New Zealand)