Where should Science and STEM education be in 10 years from now? What is the key to designing engaging science-rich learning experiences?

Join us to explore these questions with the inspiring Professor Becky Parker MBE.
Register for this free webinar below.


This webinar is part of a monthly webinar series hosted by LearnGuides. LearnGuides is our brand-new purpose-driven community and professional development platform for innovative educators who want to connect and develop the skills to transform their learning communities.

LearnGuides is currently in beta testing and will be launched later this year. When signing up for this webinar, you can also register your interest in joining the LearnGuides community.
About Professor Becky Park MBE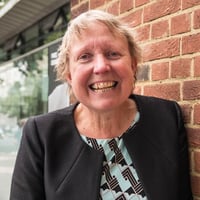 Becky is a British physicist and physics teacher based in Kent, and a Visiting Professor at the School of Physics and Astronomy, Queen Mary University of London.

In 2016, Becky created the Institute for Research in Schools to support students and teachers doing authentic research through a wide range of projects in STEM.

Becky was awarded an MBE in 2008 for services to science and education and received an Honorary Fellowship of the Institute of Physics in 2014.

In 2016, Becky was awarded the Kavli Education Medal from the Royal Society for founding the Langton Star Centre and encouraging other teachers to undertake creative and experimental research with their students.